A better way to take your vitamins.
⚡️
Fast-action
Highly bioavailable formula.
🪄
Fuss-free
Simple to use, even on the go.
💧
No bad stuff
No fillers or bulking agents.
🌍
Vegan & recyclable
First, do no harm.
"Completely changed the way I feel day to day"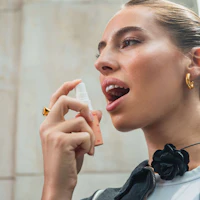 Oral Spray Technology
Designed for greater absorption of nutrients directly into the bloodstream.
Frequently Asked Questions
Yes!

Vitamins and minerals are needed every day to ensure your body functions properly. A lack of these vitamins and minerals can also effect your mood, causing you to feel down, irritable, tired or unfocused.
Sprays have a much higher bioavailability, meaning they are more easily absorbed. They are absorbed through the concentration of blood vessels found in your mouth.

This makes dosage much easier to measure as you are missing out on absorption issues in the digestive system. These issues are made worse by old age or conditions such as IBS, coeliac disease or crohn's disease.

There's also no difficult pill swallowing!
Yes! You can mix and match them as you wish. It's perfectly safe even to use all 6 Feel Good Sprays daily. They've been designed that way.

Our supplements ensure you are getting the amounts of vitamins you need, but are far from being at a dangerous level. Taking 2 sprays with vitamin D in it for instance will just give you a little more than needed, but is perfectly safe.
Supplementing is not like taking a drug. Harniman's Feel Good Sprays are designed to deal with the root of the problem through daily supplementation, unlike caffeine which just masks the symptoms of fatigue.

The plant extracts are full of wonderful properties to help you feel good. With vitamins and minerals, the more deficient you are, the faster you'll likely see the benefits. With consistent use, for the average person it can take up to three to six weeks to see the full effects.
We follow the principle of 'First, do no harm'. Taking very high doses of a supplement can be harmful. You can have too much of a good thing. There is no benefit from taking more than enough of a vitamin, and constantly taking over the recommended dose can potentially impact how well your body absorbs the nutrients.

Our sprays have been designed to work alongside your normal diet to ensure you are getting the right amount of vitamins.
All Harniman's products are vegan, and always will be.
All of our packaging is 100% recyclable, and we went the extra mile during our product development process to ensure this.

Harniman's Feel Good Sprays are the first ever vitamin spray to use a fully recyclable spray pump. Most pumps have a metal spring making them almost impossible to recycle, we use a unique all plastic spray pump which is easily processed during recycling.